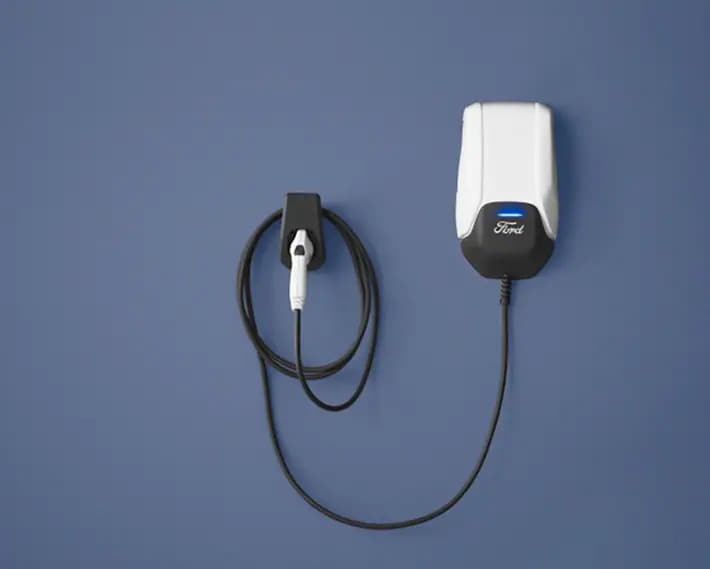 Ready Before You Are
Plug in at night, wake up to a full charge in the morning. **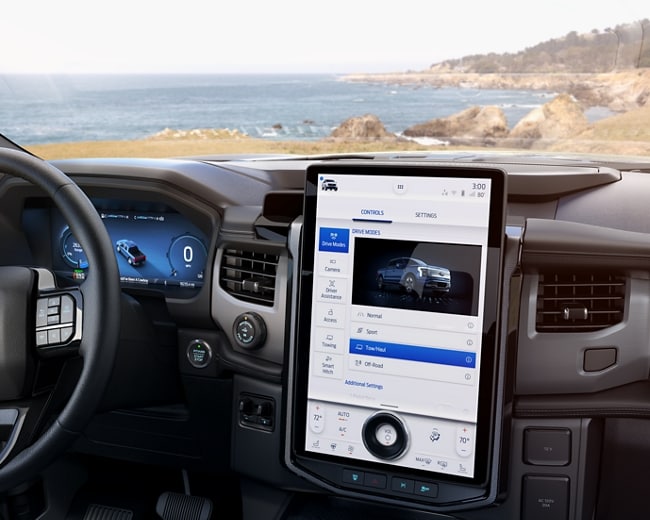 Smart Tech at Your Fingertips
The more you use the available SYNC® 4A, the more it gets to know your driving habits, common routes and more.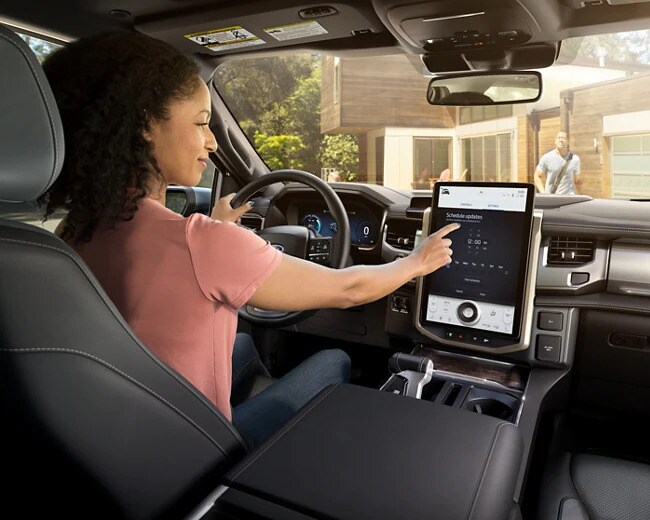 Easy Software Updates
Just like your phone, you can download Ford Power-Up software updates from anywhere there's a data connection.*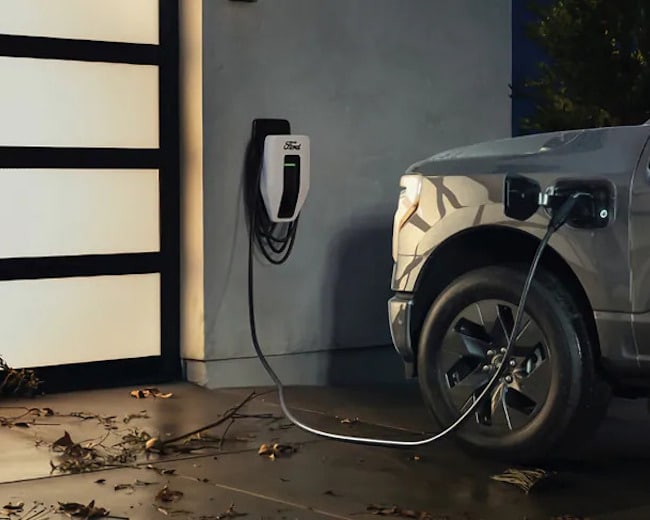 Intelligent Backup Power
With Intelligent Backup Power and Ford Charge Station Pro and an extended range battery - your F-150 Lightning can re-direct power to your properly equipped home for up to 3-days.††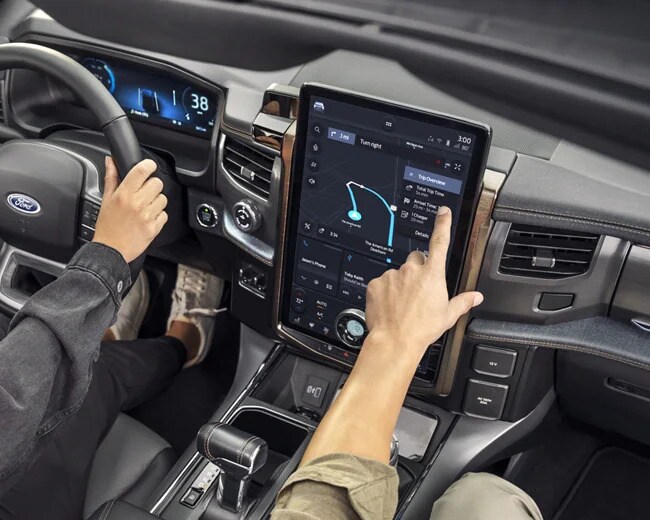 Power Your Trip
Plan routes, stops and track your charge right from your F-150 Lightning touchscreen with Ford Power My Trip.
Brawn and Brains: How Ford F-150 Lightning Software Accurately Estimates Range to Give Customers Confidence While Towing
The all-new Ford F-150® Lightning™ boasts the Built Ford Tough™ brawn to tow up to an available 10,000 pounds* with its 775 lb.-ft. of electric torque**, but it's the truck's brains that will give customers the range information they need to tow long distances with the confidence they're accustomed to.
* Torque calculated via peak performance of the electric motors at peak battery power. Your results may vary.
** Max towing on XLT and LARIAT models with available extended-range battery and Max Trailer Tow Pkg. Max towing varies based on cargo, vehicle configuration, accessories and number of passengers. Towing and torque are independent attributes and may not be achieved simultaneously.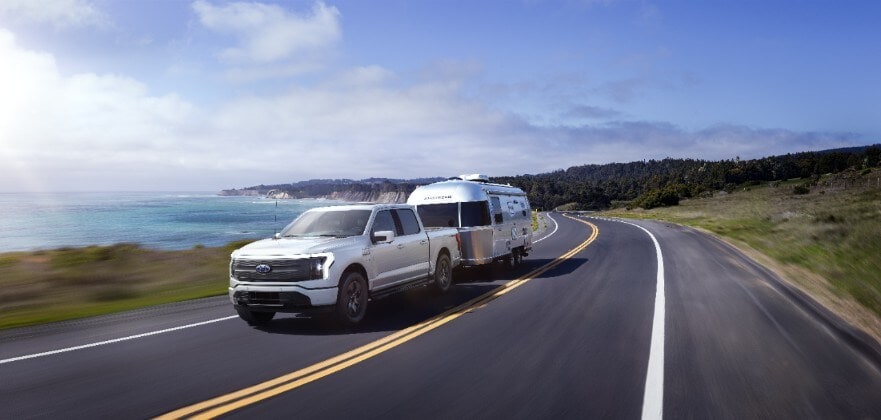 TOW TECHNOLOGY PACKAGE
An industry first, Pro Trailer Hitch Assist™ automatically controls steering, throttle and brake inputs to make hitching trailers easier. Pro Trailer Hitch Assist is standard on the Tow Technology Package, which is available on Pro, XLT and Lariat trims and standard on certain Lariat trims and the Platinum trim.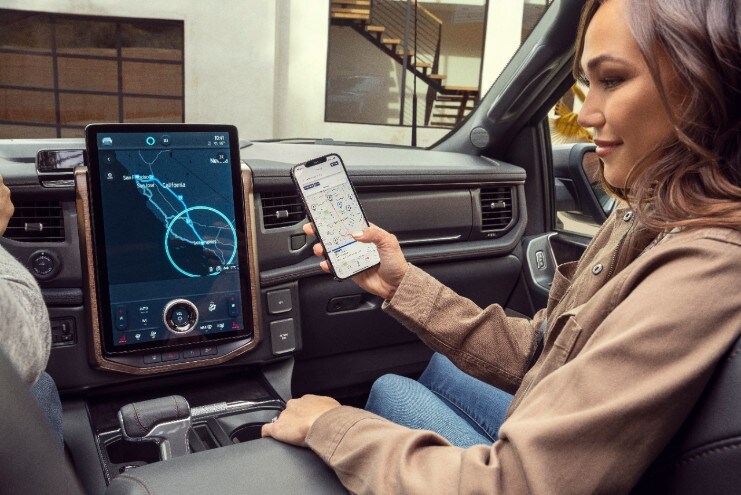 Ford-exclusive technologies: Intelligent Range and FordPass™ Power My Trip plus the available class-exclusive† Onboard Scales work seamlessly to give F-150 Lightning customers more accurate vehicle range estimates based on actual towing experiences and real-time energy use, while Trailer Profile remembers their trailer specifics so the system can associate energy use for each trailer used.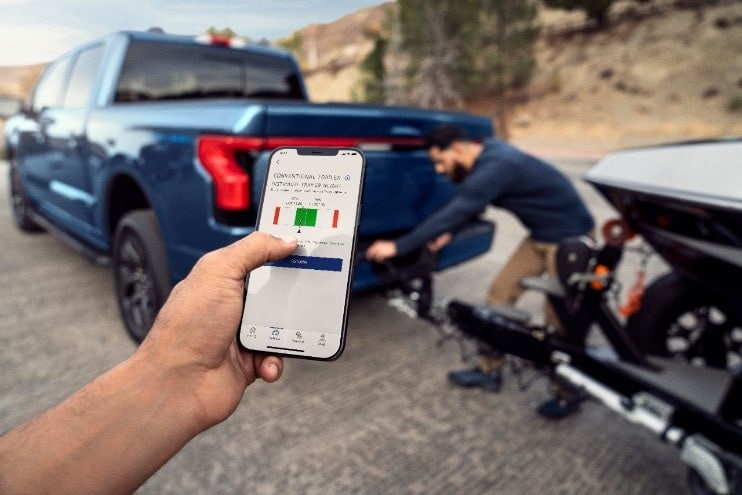 On F-150 Lightning, Intelligent Range collects key vehicle data to determine how much electrical energy drivers are using in real time. This includes traffic speed, ambient temperature, available battery energy, plus driver habits, climate control use and route topography. The system also uses cloud computing to gauge energy use from other similar types of Ford electric vehicles operating in similar situations, resulting in more accurate vehicle range calculations over time††.
LOADS OF LED LIGHTING
When night becomes part of your day, you'll find the lighting you need where you need. From tip of the bumper to behind the bed, this lighting creates a striking, contemporary look. Just like the F-150® Lightning.®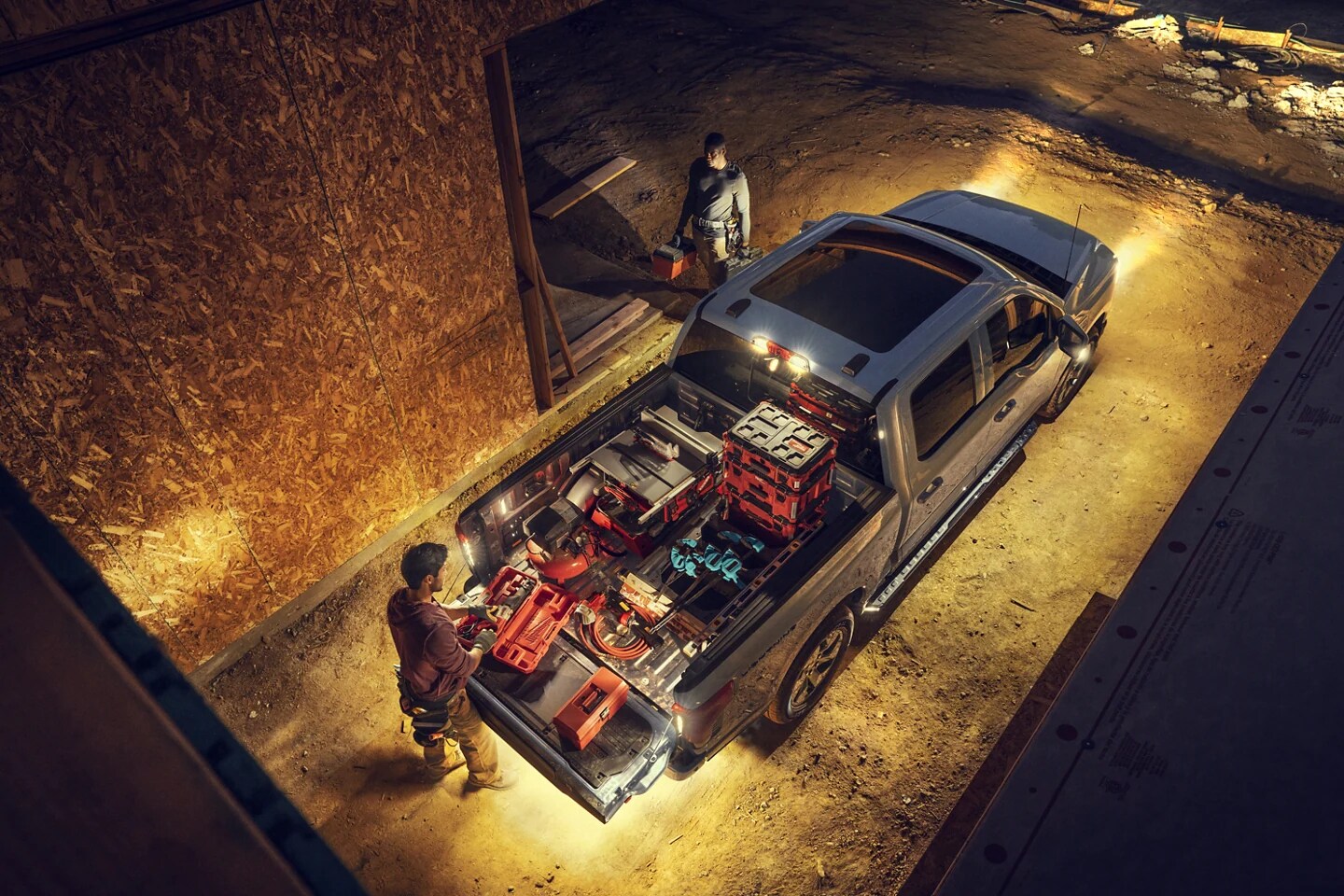 LED BOX LIGHTING WITH ENHANCED ZONE LIGHTING
An available network of lights illuminate the perimeter of your F-150® Lightning® so you can keep working or playing into the night. Use the integrated touchscreen or FordPass® App to control the zones remotely.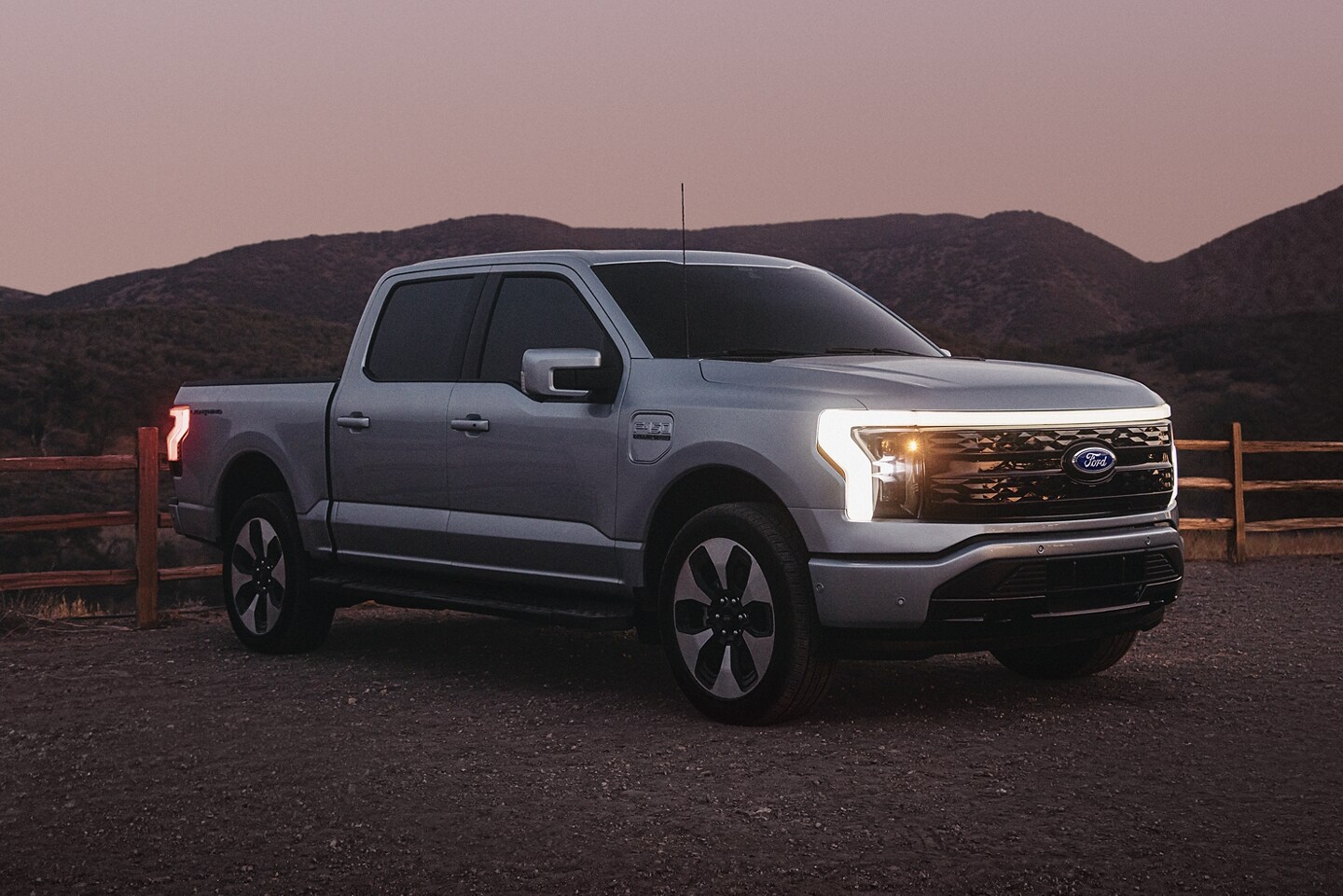 LED PROJECTOR DYNAMIC BENDING HEADLAMPS
When the sun is down but your day goes on, these unique headlamps adjust to help you maintain visibility around the twists and turns of the road and while cornering.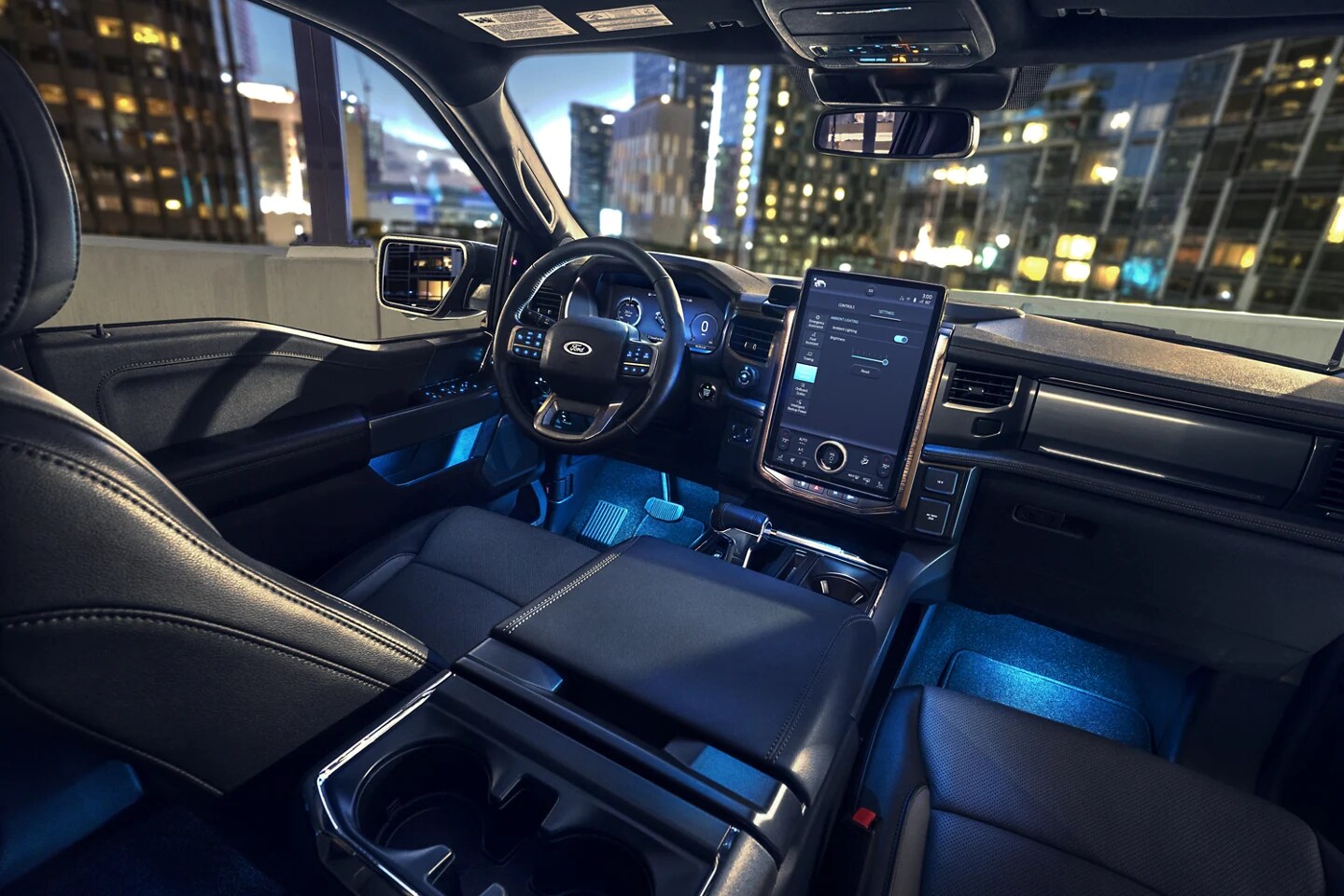 PREMIUM AMBIENT INTERIOR LIGHTING
Customize the available interior lighting of your ride. From the cockpit to the base of the cup holders. The phone charging compartment or footwell. You can also adjust the brightness, all via your SYNC® system.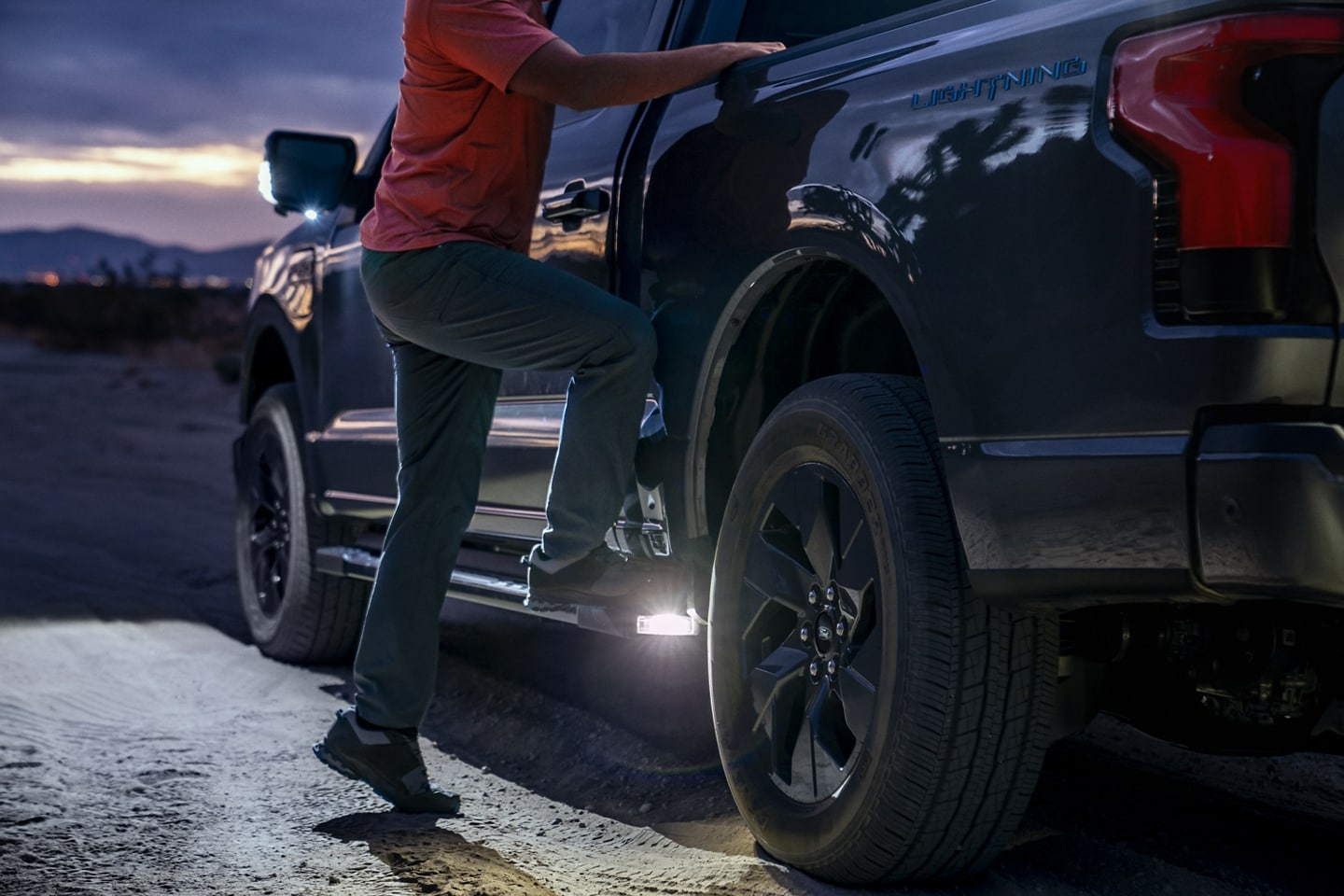 EXTENDED RUNNING BOARDS WITH ENHANCED LIGHTING
The available extended running boards extend to the rear wheels for easier access to the bed. LED lighting illuminates them after dark for safer use.
ENHANCED PRO POWER ONBOARD
Just plug 'em in and let 'er rip. From the jobsite to the campsite, this convenient feature provides on-site, on-demand power for tools, electronics, appliances and other electric devices. *
*See owner's manual for important operating instructions.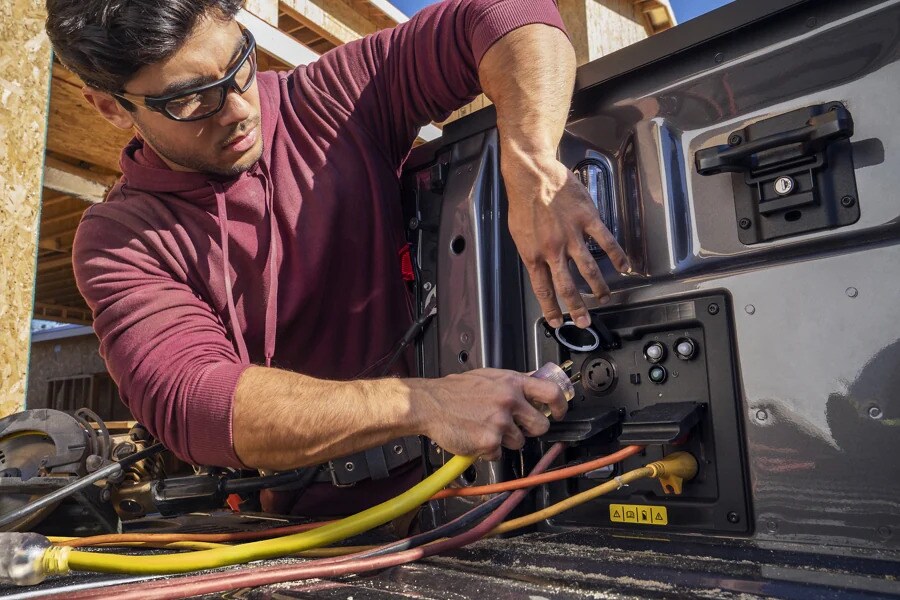 AVAILABLE 9.6 KW POWER
Be the talk of the tailgate. Pack along some conveniences camping. Plug-in a few power tools. With this much power your F-150® Lightning™ is up to the task.
*See owner's manual for important operating instructions.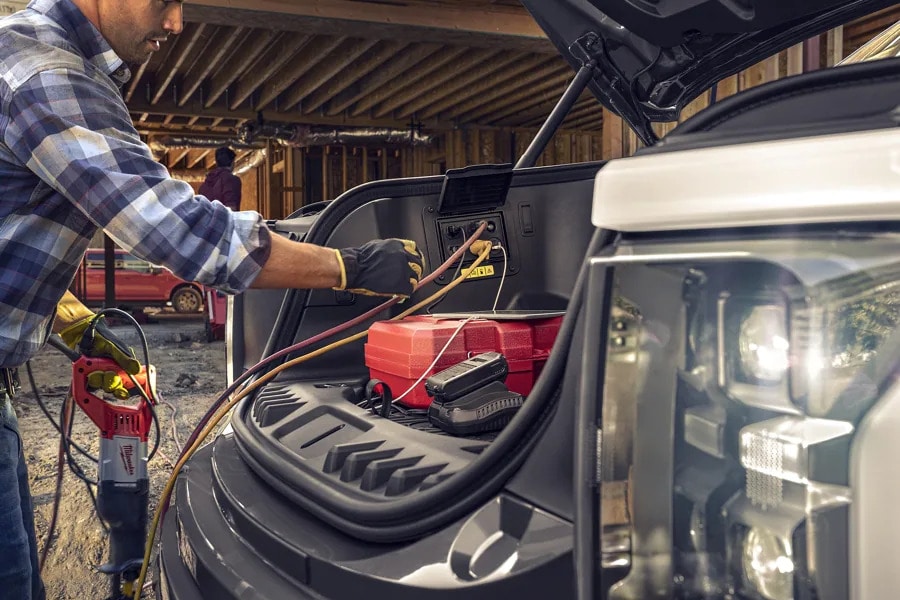 BUMPER-TO-BUMPER OF ADDED POWER
It offers 11 convenient power outlets. There are two 120 V outlets in the cab, four in the bed and four in the Mega Power Frunk, which also has a USB-C and USB-A. A 240 V outlet is available for the bed. *
*See owner's manual for important operating instructions.
A FRAME THAT NEVER GIVES UP
Relentlessly tough and solid, the high-strength, battery electric frame and subframe together make up the strongest F-150 frame ever.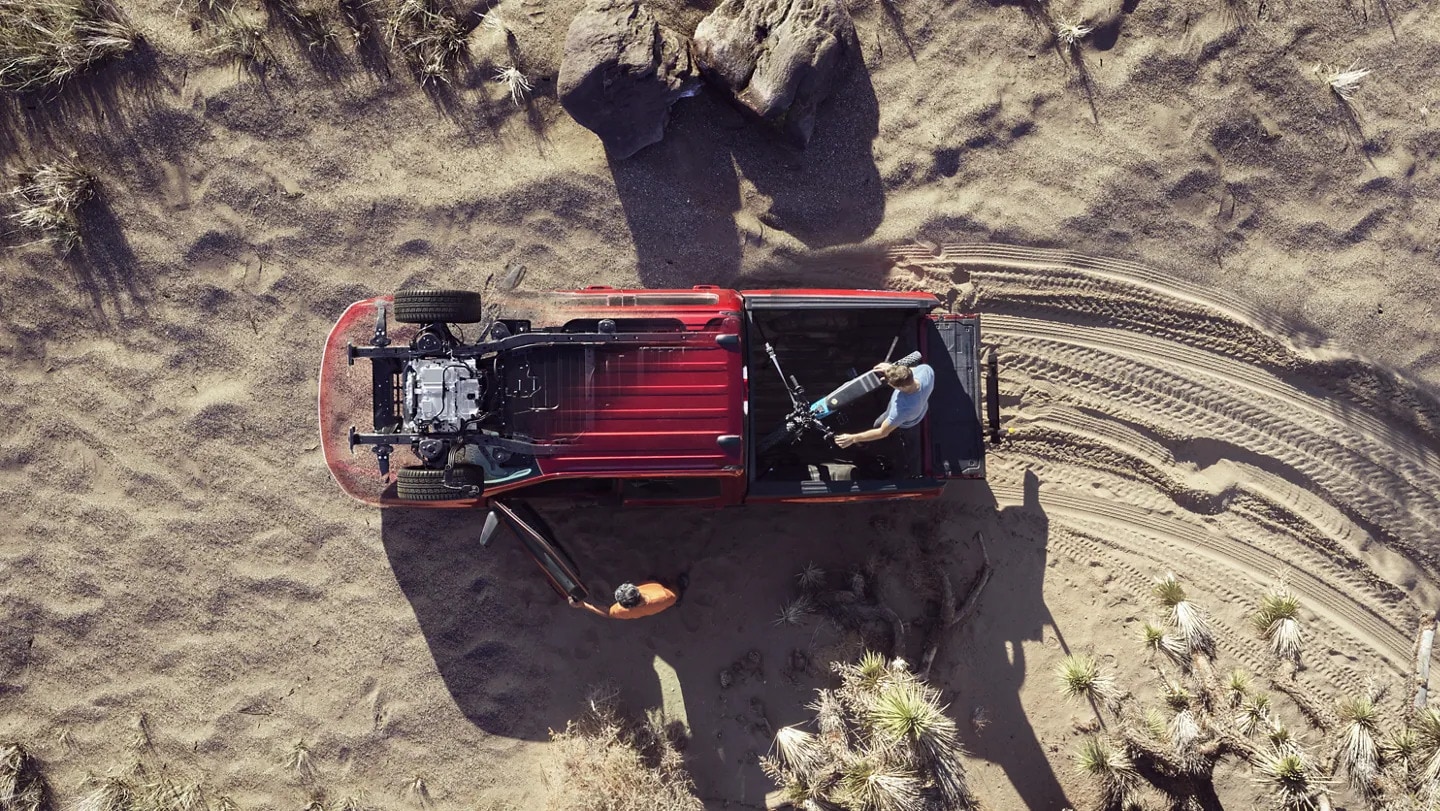 FULLY BOXED HIGH-STRENGTH STEEL FRAME
F-150 Lightning™ has tough in its bones. Strong and rigid, built with a fully-boxed frame and high-strength steel with large cross-sections.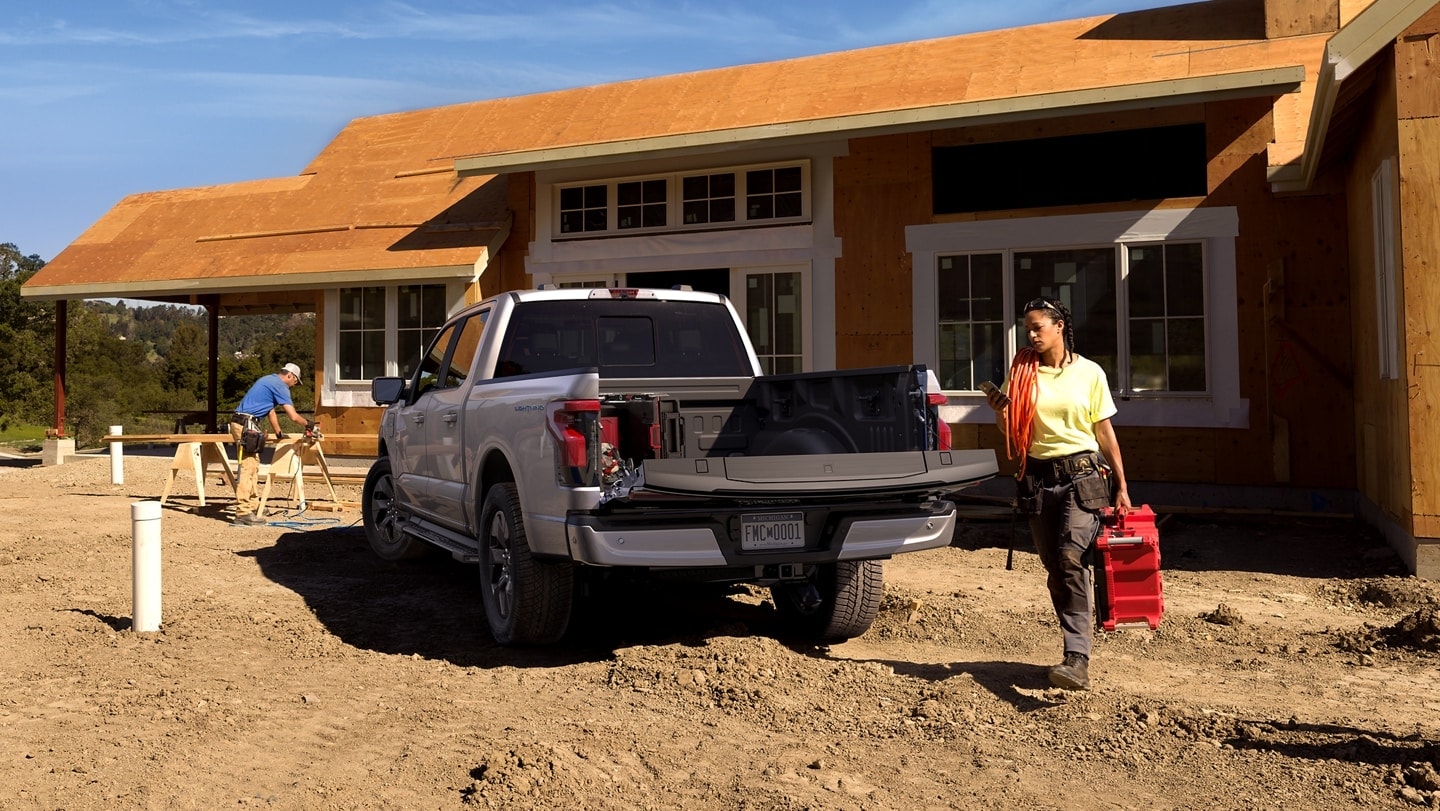 POWER TAILGATE WITH UNIQUE SIGNATURE REAR LIGHTING
Hands full? Not a problem with this available feature. Use your key fob, tailgate touchpad or cabin button to open or close your tailgate. The distinct rear lighting bar makes a bold style statement.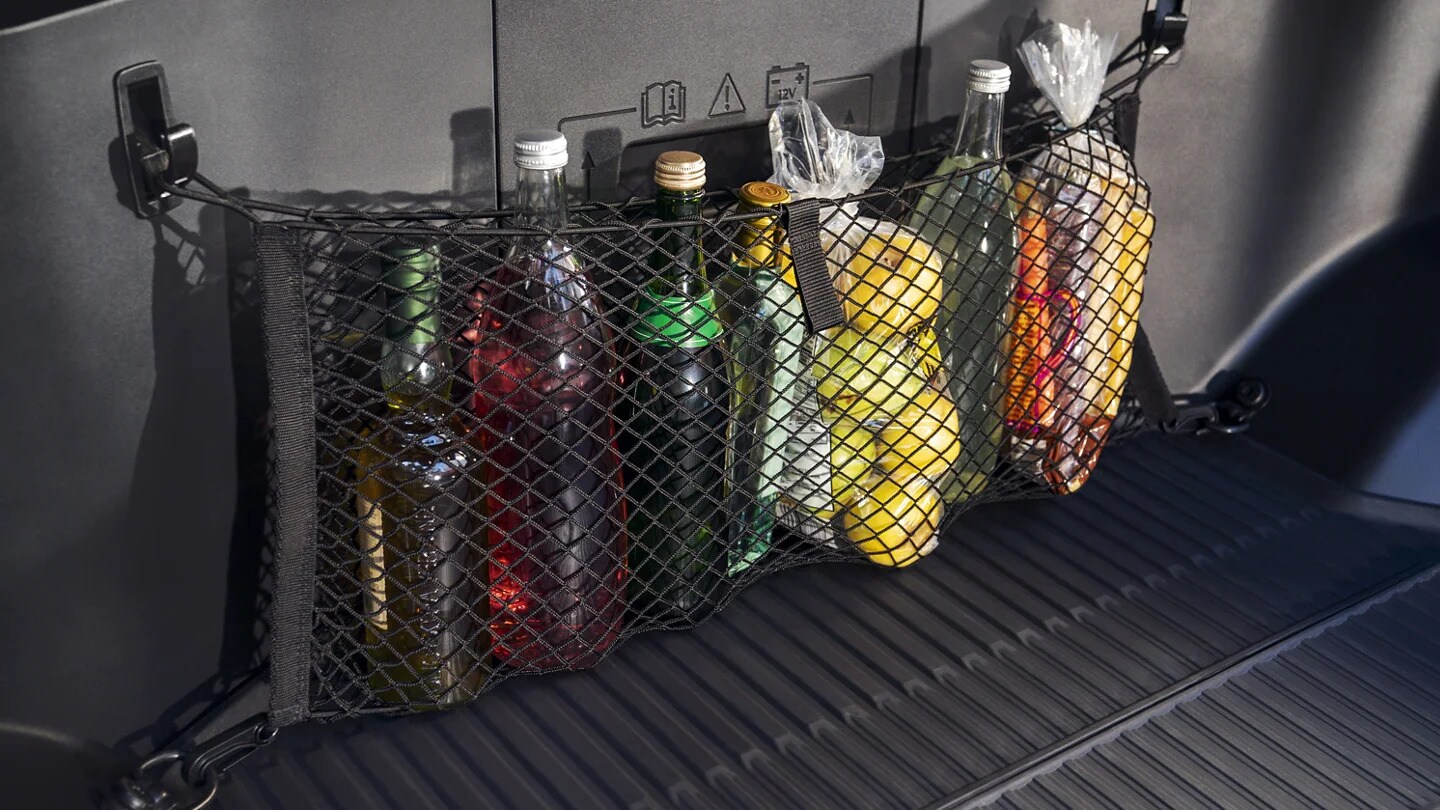 CONVENIENT HOOKS AND TIE-DOWNS
Put an end to stuff scattering all over. Your Mega Power Frunk comes with convenient hooks, tie-downs, and a cargo net to keep everything in place.
UNCOMPROMISED INSIDE
Robust standard and optional features. Abundant next-generation tech. An extensive range of options. No doubt about it, there's a lot to love inside the 2022 F-150® Lightning.™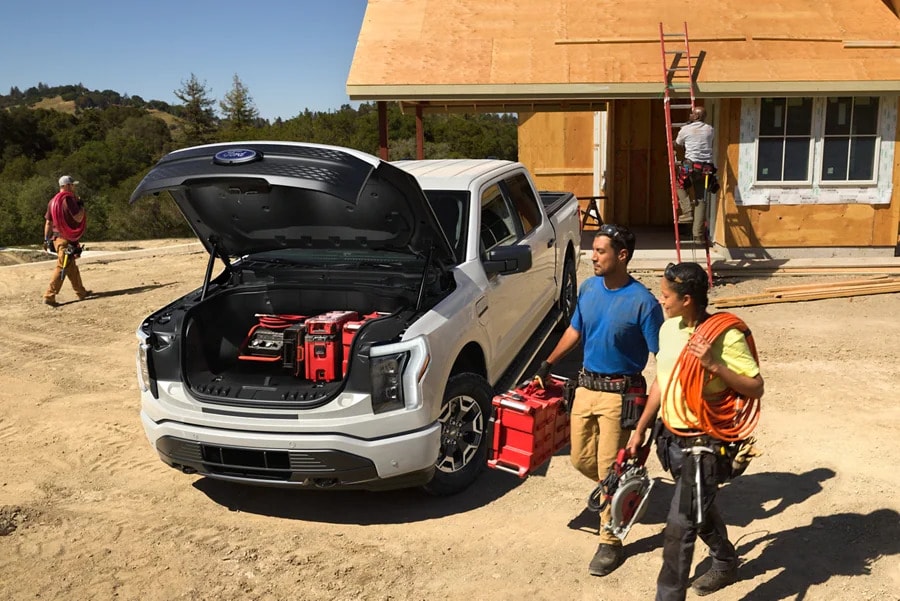 THE LARGEST FRONT TRUNK OF ANY ALL-ELECTRIC PICKUP
Water-resistant and drainable. 2.4kW of juice to four 120v outlets and two USB chargers. A payload capacity of up to 400-lbs. The Mega Power Frunk holds a lot of stuff.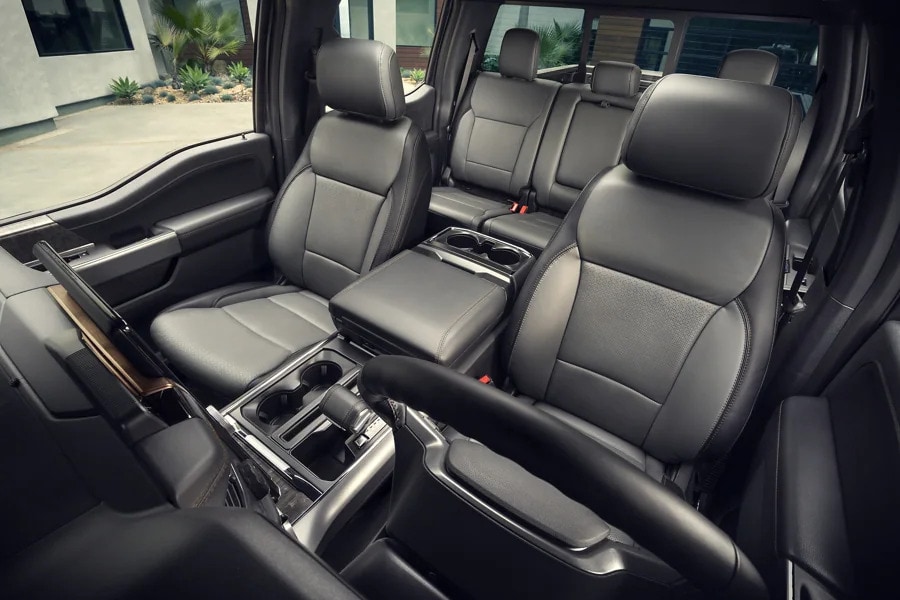 SEATS UP TO 5 PASSENGERS
Your turn to drive the car-pool? Heading out with friends? Taking the family on an adventure? With all its head, leg and shoulder room everyone will be relaxed and happy. Not to mention all the luggage room in the frunk.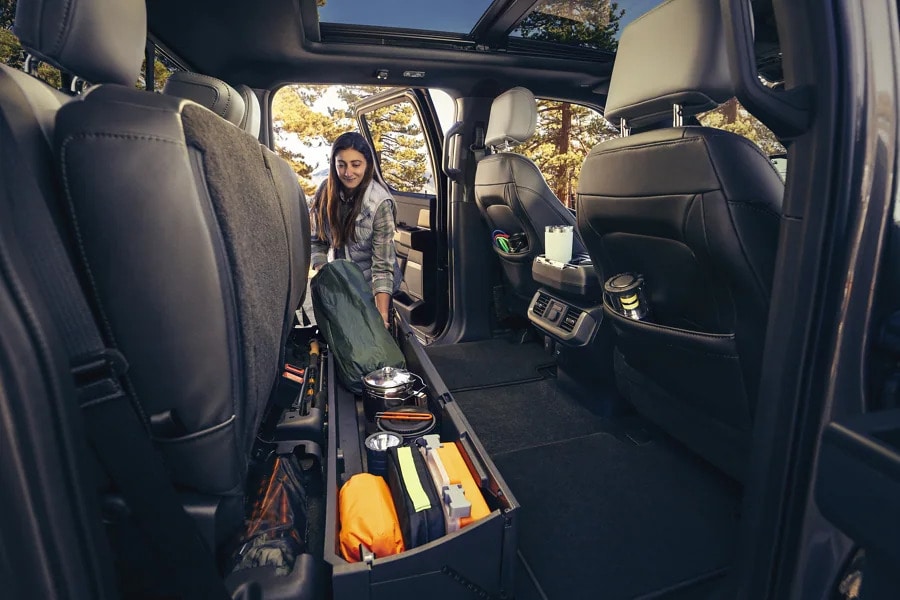 EASY ACCESS UNDER SEAT STORAGE
The rear seat flips up easily, allowing you to stow lots of gear conveniently and securely underneath. Dividers keep your cargo organized and in place.
How can we help?
* Indicates a required field